50 kVA 3 Phase Uninterruptible Power Supply UPS
Phase:

Single/Three phase

Input voltage:

220/380V, 230/400V ±20% or customized

Output voltage:

220/380V, 230/400V ±1-5%

Frequency:

50/60Hz

Power factor:

0.8-1

Type of technology:

Servo type with roller carbon brush

Type of regulation:

Independent voltage control

Display:

LED/Touch Screen HMI

Installation:

Indoor/Outdoor
Uninterruptible Power Supply, Power Protection On-Line High Prequency UPS 6KVA Single Phase Input / Output, Power Saving
Description:
We are Manufacturer which specialized in Servo Voltage Stabilizer, UPS,Dry Type Transformer etc for nearly 40 years in China. And be vendor of Mitsubishi Elevator in East Africa, GE, Emerson.
The protector of large scale critical use
On-line UPS has a similar working principle as the ups except for a larger load capacity to deploy in large scale electrified places having high requirements on quality of power supply.
As a user-friendly policy,the ups supports various operating systems,also support the TCP/IP local network and remote monitoring.
True On-Line UPS
Features
DSP Technology:The advanced DSP digital control technology enables UPS more stable performance.
Environment Friendly:This UPS is eco-designed and manufactured to meet the China local pollution control requirement of Electronic Products,which means it will cause no harm to environment and human beings in normal usage.
Active input power factor correction(PFC):Digital control of the PFC enables the UPS to keep input power factor above 0.99 to prevent possible electric grid pollution and meanwhile mostly save the cost.
Wide range of input voltage and frequency:We intentionally widen the range of input factors to make sure the UPS can apply to various environment,which will effectively sustain the battery charging even in unstable power environment so that the service life of the UPS could be obviously prolonged.
Zero power switch delay:When the utility power fails,UPS will automatically switch from AC mode to battery mode with no delay,which ensure stable power supply of operating system.
Adaptive Load Management:This technology allows the UPS to be set up at a fixed 50Hz or 60Hz output,while it alsocan intelligently monitor power usage and automatically shed and reconnect loads in order to prevent generator overload.
Sufficient Expansion Slots:The pre-allocated smart slots enable flexibility in choice of USB cards,AS400 cards,CMC monitoring cards, SNMP cards,RS485 cards and EMD environment monitoring cards.
The load PFC is 0.8:it adapts the features of most current electric equipment and elevates the load-bearing capacity of the machines.
Support the generator:The wide range of input voltage and frequency can effectively separate the harmful electric wave produces by the generator and provide safe and reliable power supply.
Large LCD display
Features
Pure on-line double conversion design
Wide input range
Flexible intelligent monitoring program and strong communications function
Compact design
Precise utility power synchronizing system
Cold start function
Perfect protection
Power conservationUPS
LCD man-machine conversation platform design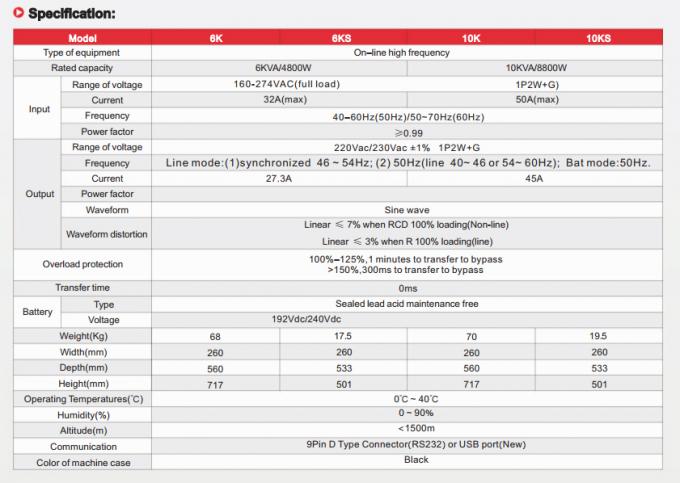 Feedback