300 kVA 3 Phase Uninterruptible Power Supply UPS
Phase:

Single/Three phase

Input voltage:

220/380V, 230/400V ±20% or customized

Output voltage:

220/380V, 230/400V ±1-5%

Frequency:

50/60Hz

Power factor:

0.8-1

Type of technology:

Servo type with roller carbon brush

Type of regulation:

Independent voltage control

Display:

LED/Touch Screen HMI

Installation:

Indoor/Outdoor
500-1000VA Uninterruptible Power Supply,Off-Line UPS for High Quality,High efficiency and Energy Saving,Frequency Drift
Description:
We are Manufacturer which specialized in Servo Voltage Stabilizer, Uninterruptible Power Supply (UPS), Active Power Filter, etc for nearly 40 years. And be vendor of Mitsubishi Elevator in East Africa, GE, Emerson.
Elementary for data protection
The off-line UPS is in standby status with batteries being charged in normal AC time. When the power supply unexpectedly shuts down, the built-in inverter will in no time convert the battery output into AC to keep stable power supply.
The UPS is generally considered high rate, low noise while running and cost-effective, mostly used in comparably stable environment with a small fluctuation of utility power and lower requirement of power supply quality.
The UPS now is widely used in protection of PC in govemment offices, education institutes and SMEs.
Functions & features:
Micro controller(CPU)
Waveform:square wave(battery mode)
Wide AVR range
Overload and short circuit protection
Low battery alarm
UPS Auto on when AC recovery
Off mode charging
Humidity:less than 90%
Features
It adopts standard frame structure design.
The structure is compact. Sine wave output no matter in AC mode or battery mode can provide sine wave power source with low distortion.
It provides the best power source guarantee for the load equipments of users.
Zero-delay:when the utility power is cout off or recover, there is absolutely no time between the transfer of AC mode and battery mode.
It effectively ensures the reliability of load operation.
Input null line and fire wire detecting function:it can detect if the null line and fire wire are wrongly connected.
It avoids wrong connection of null line and fire wire of UPS AC power input.
It has voltage breakthrough protection and strong anti-interference function.
Input power factor correction:UPS can correct the input power factor.
Under full load, the input power factor can reach over 0.95so that the electric environment of the users will not be polluted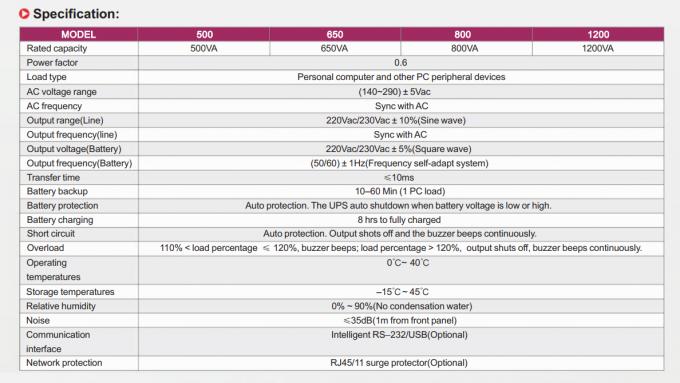 Feedback