1 kVA Single Phase Uninterruptible Power Supply UPS
Phase:

Single/Three phase

Input voltage:

220/380V, 230/400V ±20% or customized

Output voltage:

220/380V, 230/400V ±1-5%

Frequency:

50/60Hz

Power factor:

0.8-1

Type of technology:

Servo type with roller carbon brush

Type of regulation:

Independent voltage control

Display:

LED/Touch Screen HMI

Installation:

Indoor/Outdoor
10-40KVA Uninterruptible Power Supply, STD31 Series On-Line Low Frequency Best UPS for Power Failure, Lightning Spike
Description:
We are Manufacturer which specialized in Servo Voltage Stabilizer, Uninterruptible Power Supply (UPS), Active Power Filter, etc for nearly 40 years.
And be vendor of Mitsubishi Elevator in East Africa, GE, Emerson.
The TD series includes the 3‒250KVA single/three‒phase models and uses double conversion on‒line technology (VFI) with and isolation transformer on the out put of the inverter. The load is powered continuously by the inverter with a filtered,stabilised and regulated sinewave supply. The input and output EMI filters considerably increase the immunity of the load to mains disturbances and surges. TD provides maximum protection for vital "mission– critical nerworks,security applications (electro medical) and industrial applications,thanks to its outstanding mechanical and electrica desgn.
• isolation trans former on the inverter
• extremely high short–circuit current
• sinusoidal absorption (THDV up to 3% with CLEAN version)
Main Features:
• Low harmonic pollution,with optional filter car attenuate input low THDV ≤3%
• High level battery reliability: –Automatic battery test –Battery care,Battery life span can be increased approximately by 20% more
• Back feed protection:to avoid energy feeding back into the mains supply
• Bypass may be deactivated to allow operation as a frequency converter(at 50 or 60 Hz),or as stabiliser
• Easy to maintain(front access)
• Reliable,filtered,stabilised and regulated sinewave output(double on–line concersion teahnology VFI according to EN50091–3 specifications) with filters for atmospheric disturbance suppression
• High reliability:IGBT teahnology, full microprocessor control with no–break static and manual bypasses
• High level diagnostics:event log with 128 messages, states, measurements and alarms–available from the built–in LCD in several languages
• The UPS may be configured with the RS232 serial port(flash upgradable)
Functions & features:
Functions&features:
On–line UPS
DSP system
IGBT technology
CPU control
SPWM modulation
LCD display
Double conversion
Features
It adopts standard frame structure design.
The structure is compact. Sine wave output no matter in AC mode or battery mode can provide sine wave power source with low distortion.
It provides the best power source guarantee for the load equipments of users.
Zero-delay:when the utility power is cout off or recover, there is absolutely no time between the transfer of AC mode and battery mode.
It effectively ensures the reliability of load operation.
Input null line and fire wire detecting function:it can detect if the null line and fire wire are wrongly connected.
It avoids wrong connection of null line and fire wire of UPS AC power input.
It has voltage breakthrough protection and strong anti-interference function.
Input power factor correction:UPS can correct the input power factor.
Under full load, the input power factor can reach over 0.95so that the electric environment of the users will not be polluted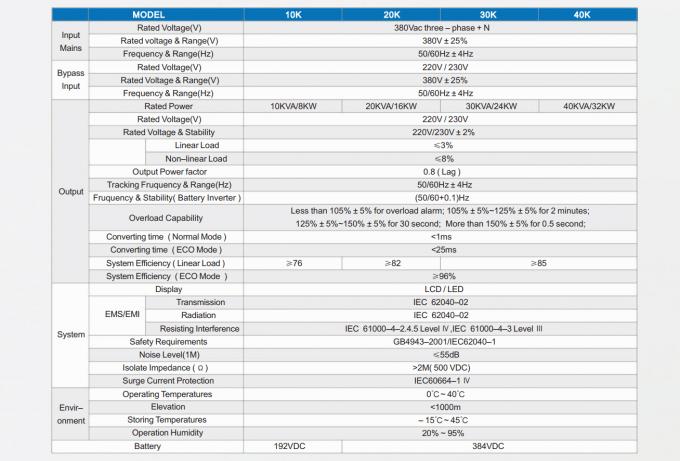 Feedback