950KVA Dynamic Voltage Regulator(DVR)
Phase:

Single/Three phase

Input voltage:

220/380V, 230/400V ±20% or customized

Output voltage:

220/380V, 230/400V ±1-5%

Frequency:

50/60Hz

Power factor:

0.8-1

Type of technology:

Servo type with roller carbon brush

Type of regulation:

Independent voltage control

Display:

LED/Touch Screen HMI

Installation:

Indoor/Outdoor
950KVA Dynamic Voltage Regulator(DVR)

When the power line undergoes a voltage sag or surge, this may cause a critical security threat in power supplying for an enterprise. More seriously, it may cause significant property loss and personal loss. Use of a DVR alleviates such a threat or even avoids related loss.

A DVR is a cutting-edge power electronic device. It employs both advanced power electronic semiconductor technologies and control technologies to ensure safe use of electricity. To ensure stable power supplying to sensitive devices at the backend, our DVR uses world-leading control chips such as DSP/FPGA/CPLD to monitor line voltage quality. When a voltage sag or surge is detected, our DVR can instantly switch related backend devices to be powered by an inverter. The manipulation and shutdown of our DVR is controlled by software, and its typical switching cycle may be limited to no more than 1ms, making sure that the power supplied to the devices will not be interrupted. You can select supercapacitors or lithium batteries as backup power sources to meet your own requirements. The duration for backup power supplying depends on the capacity of those supercapacitors or batteries.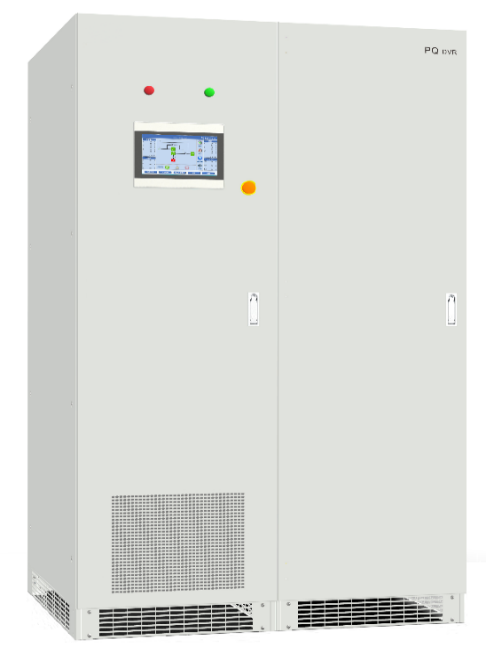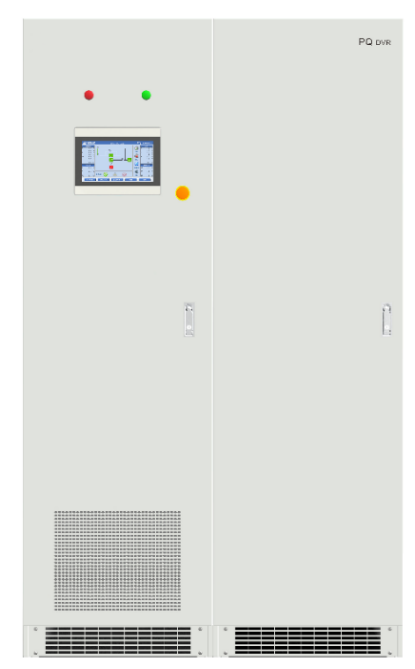 DVR
950KVA Dynamic Voltage Regulator Features
High reliability: Our cabinet applies an integrated design frame, which is highly environmentally adaptable, for it uses less components, and each of them has a powerful anti-shock function and long service life; it also provides a separate air way for cooling, where the air comes in from the bottom and out through the top, effectively preventing dusts from accumulating within the cabinet.

Short response time: A global response time of less than 1ms ensures constant power supplying.

Excellent charging capability: Our product supports charging energy storage units to their full capacities. Therefore, after a severe voltage sag occurs for the first time, it can rapidly charge the energy storage units that have been discharged. As a result, a problem that the voltage drops continuously in thunder and lightning weather can be effectively addresses.
High utilization rate of energy storage units: A wider range of input DC voltages bring more convenience for you to optimize your initial investment.
Ease of operation and maintenance: Use of supercapacitors contributes to a long service life and simplicity in maintenance; and our power control products employ a modular design.

Intelligent management of energy storage units: We apply an intelligent system for super capacity management, and therefore, can detect in real time when a supercapacitor is working improperly.
950KVA Dynamic Voltage Regulator Technical Parameters
Model
DVR50‒­­­­­150kVA
DVR200­­‒350kVA
DVR400‒450kVA
DVR500kVA or above
System Parameters
Rated voltage
208V, 220V, 380V, 400V, 415V, 460V, 480V
Rated capacity
50kVA, 75kVA, 100kVA, 150kVA
200kVA, 250kVA, 300kVA, 350kVA
400kVA, 450kVA
500kVA or above
Rated frequency
50Hz/60Hz, ±5Hz
Voltage range
-40%‒+20% (You can set this value)
DC voltage
180‒750Vdc (The minimum value can be adjusted as needed.)
Pieces to be integrated
8
Global efficiency
≥99%
Wiring mode
3-phase 3-wire; 3-phase 4-wire
Connection mode
Connect lines from both the top and the bottom
Air in/out
Air in from the bottom and out through the top
Performance Indicators
Overall response time
<1ms
Voltage precision
1%
Sag compensation capability
100%; compensation cycle 3s; for a longer cycle, add a supercapacitor as needed.
Overload capability
Overload 125%, lasts at least 10min; Overload 150%, lasts at least 1min
Cooling mode
Air-cooled
Noise
<68dB
Fixing mode
Cabinet
Dimensions (W*D*H mm)
600*1000*2000
Power cabinet: 600*1000*2000 Super-capacity cabinet: 600*1000*2000
Power cabinet: 600*1000*2000 Super-capacity cabinet: 800*1000*2000
For a capacity of 500kVA or above, you can adjust as needed.
Environment Parameters
Altitude
≤2000m, 2000m‒4000m (De-rating)
Operating temperature
-10℃‒40℃
Relative humidity
5%RH‒95%RH, non-condensing
Note: For DVR products of other specifications, contact us for further information.
Feedback