50 kVA 3 Phase Auto Transformer
Phase:

Single/Three phase

Input voltage:

220/380V, 230/400V ±20% or customized

Output voltage:

220/380V, 230/400V ±1-5%

Frequency:

50/60Hz

Power factor:

0.8-1

Type of technology:

Servo type with roller carbon brush

Type of regulation:

Independent voltage control

Display:

LED/Touch Screen HMI

Installation:

Indoor/Outdoor
50 kVA 3 Phase Auto Transformer Copper/Copper clad aluminum Dry Type Auto Transformer 50/60HZ
Quick Detail:
Three Phase Dry Type Transformer
We offer OEM and ODM for This Product.
Rated power: 1-1000KVA
Description:
Our S(D)G series dry type, iron core Transformers and Reactors adopt high quality low loss silicon sheet and arranged non-bobbin coil winding technology, and we apply vacuum pressure impregnating(VPI) process and solidify baking process to achieve insulation class H or C. Our transformers are widely used on any occasions where voltage is below 1000V and capacity up to 2000KVA, and equipment which require voltage to step up or down. Our Reactors are used in a large variety of applications and in many industrial activities from phase-shifting to harmonic suppression.
Three phase or single phase dry-type low voltage (LV) transformers are used as isolation transformers or to adjust the voltage level in the LV distribution grid. We have advanced technology and imported equipments and made of high quality silicon sheet, copper/aluminum enamel insulated wire(or high quality foil), insulation material and optimal design. Applied with arranged non-bobbin coil winding technology and Vacuum Pressure Impregnation(VPI) process, the transformer insulation class up to H or C.
Type:
Isolation Transformers
Auto Transformers
Harmonic Mitigating Transformers
K-Factor Transformers
Variable Transformers
Buck & Boost Transformers
Applications:
Our low voltage transformers are widely used in industrial applications and in commercial and public buildings. They are also used for adjusting the voltage from 690 V to 400 V or as isolation transformers with a voltage ratio of 1:1, providing galvanic separation.
Dedicated products are available for various applications:
- Wind or solar
- Transportation (ie, marine or railways)
- Uninterruptible power supply (UPS)
- Chemical, oil and gas industry
- Motor drive
- Converters
Specifications:
| | |
| --- | --- |
| Number of phases | 3 or 1 |
| Rated power | 1-1000KVA(others on request) |
| Primary/secondary voltage | 220,230,380,400,600,690(others on request) |
| Frequency | 50, 60, 400Hz |
Competitive Advantage:
- Low losses
- Low weight and compact dimensions
- Non-flammable and non-explosive
- IP21 enclosures (optional)
- With air cooling based on natural convection (AN) or with forced air cooling (AF)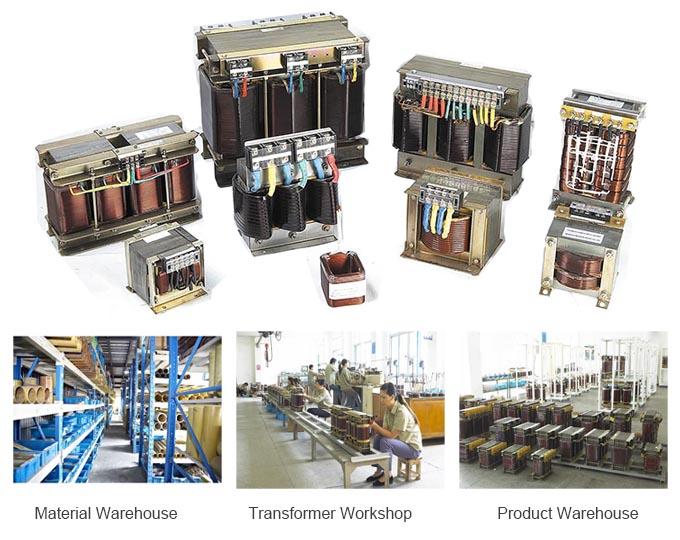 Feedback